Description
Full Day Comfort is more affordable now, thanks to our advanced Hydrogel Material.
6 Advantages :
Full Day Comfort
High Oxygen Permeability
UV Protection
Low Dehydration
European CE Approved
Patented Hydrogel Material
Maxvue Hydrosoft Monthly Disposable contact lenses combine outstanding all-day comfort with incredibly crisp, clear vision. Made from our patented water-loving material which keeps your eyes moist all day.
Key Features & Benefits :
Our moisture loving hydrogel material and precision edge design deliver outstanding full-day comfort.
High Definition Aspheric Design helps reduce the appearance of blurriness, halos and glare across a full range of conditions.
UV Blocking protects your eyes from harmful radiation.
Clinical Testimonial of MAXVUE Hydrosoft Conducted at National University of Malaysia (UKM)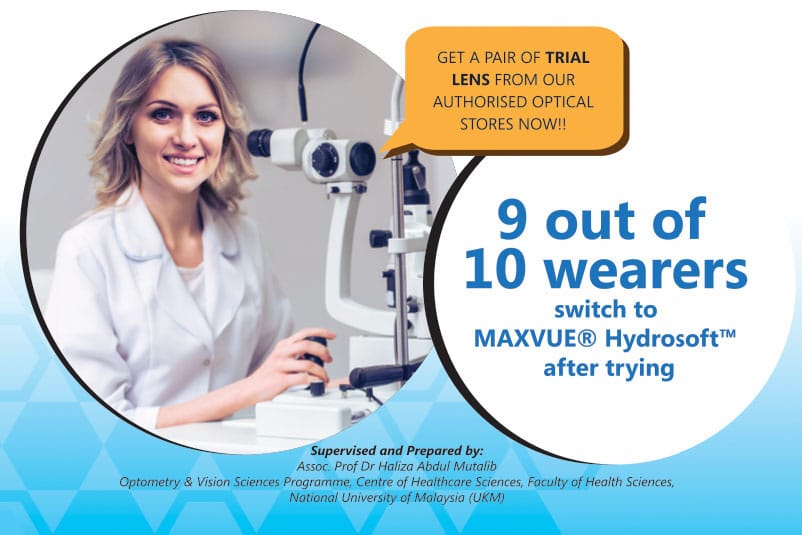 Maxvue Hydrosoft monthly disposable contact lenses have superb qualities which enhance safety in lens wearing and yet provide lasting comfort during extended wear. Quotes by Dr.Haliza Abdul Mutalib
Monthly Disposable Method This Contact Lens is suitable for below 8 wearing hours per daily, and once opened in 30 days have to be discarded.
Additional information :
Material: Hydrogel Terpolymer
Handling Tint: Light Blue
Diameter: 14.2mm
Base Curve: 8.6mm
Centre Thickness: 0.05mm @ -3.00D
Water Content: 53%
Package : 2 & 6 pcs