As-salamu alaykum and hello everyone ♡. Happy Tuesday! How everything going? For so long I haven't done a contact lens review. I personally love wearing contact lenses although I actually does not need one. Haha, I wore the one that does not have any power in it. I find that contact lenses can bring an instant nicer and brighter look to your eyes, add some eyeshadow and your bamb! Today I will be reviewing the contact lens from ColourVue. They have so many styles to choose from. My favorite got to be the one that is lower than 14.5mm in diameter and have natural tones in it. I don't really like the ones that have patterns or big eye effect lenses. I think it does not suit my age already la. haha.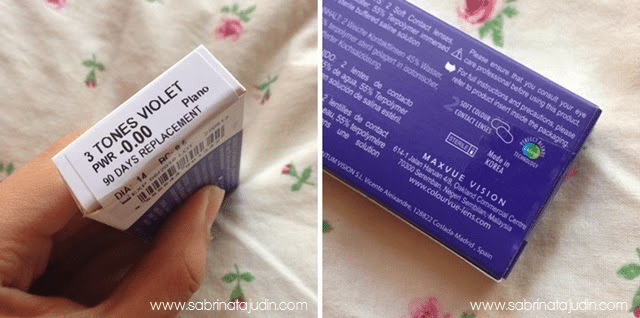 The colour that I have picked are the one in the 3 Tones Series in Violet. They have 5 different options to choose from this series. The lenses are packed inside a box with the plastic container. Remove the plastic container and don't forget to soak in the solution before using it okay. The description said that this is a 90 days contact lens (3 months from opening) and this 3 tones lenses have a diameter of 14mm.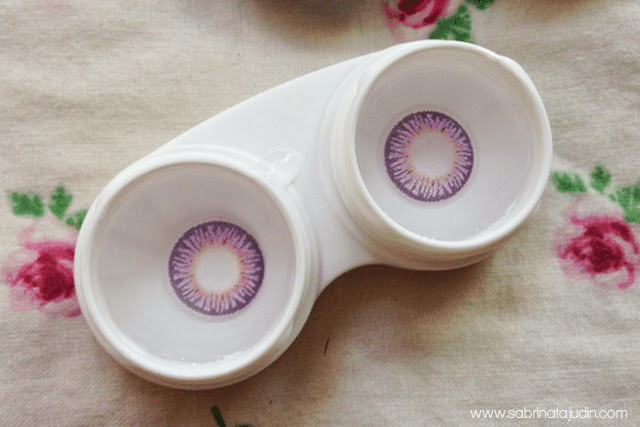 As you can see above the 3 Tones lens in violet have a nice purple tone with a little yellowish tone in the middle. Looks pretty bright to my opinion. My eye colour are black. So If you have black eyes, you may suit the reference of the picture to my picture above. When I first got it I was like, oh man, this is too purplish. So I open the case, soak it in the solution. I am using the MaxOpti Fresh All Purpose Solution if you wonder. Then a few hours I tried the lens. I have a sensitive eyes, some solution gives me the "hell" when I try to apply my contact lens. Alhamdulilah this does not, This lens is super comfortable. If you look closely, it has a transparent surface on the outside, wide lens usually are more comfortable to my opinion. But I don't like Big Cirlce Lenses.
So my first impression on this lens are, I love it because it is super natural at the same time its comfortable at the same time it makes your eye a lil bit bigger but not that obvious. I love how the color blends in to my eyes without looking weird. I love the face it gives me this hint of color on my eyes (not that fake looking eyes if you know what I mean). I wore this though out the day in the office. I can wear this lens all day long, but at the end of the day around the time I need to go back home, I started to feel uncomfortable, maybe because of the haze going around this few days. Maybe an eye drop will help this solution. Overall, I really love the 3 tones series, I think it looks good on me and looking forward to try other colours. RECOMMENDED if you wanna try non natural colours such as blue/green/violet with our black Asian eyes, it does not look weird.
Sources: http://www.sabrinatajudin.com/2014/03/colourvue-3-tones-lens-in-violet.html